Department of Food Science & Technology-KNUST hosts ASPIRE Food Group and Nestlé
Tue 11 Dec 2018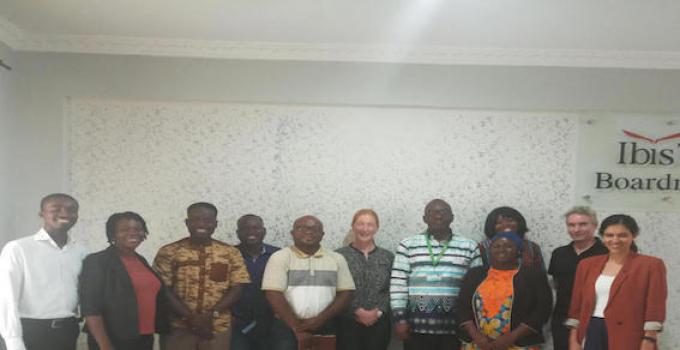 The Department of Food Science and Technology (FST) on the 21st of November, 2018 hosted ASPIRE Food Group, Ghana and a team from Nestlé. This as was an initiative of ASPIRE Food Group, Ghana, to engage the Department on the potentials of partnership to embark on research into insects (particularly Palm weevil larvae) use as food. The discussions came out positive as considerations are likely to be given to the sponsorship of Post-graduate candidates in related research areas. The following were at the meeting:
Prof. W. O. Ellis (Former VC), Dr. F. D. Wireku-Manu (HOD, FST), Dr. H. E. Lutterodt (Postgraduate CoOrdinator, FST), Dr. R. A. Annan (Human Nutrition and Dietetics Coordinator, Department of Biochemistry and Biotechnology) and Cyril Roland Asiedu (Postgraduate student, FST).
ASPIRE was represented by Shobhita Soor (President, Ghana) and Farida Adams (FPD Manager, Ghana) while Nestlé was represented by Céline Worth (Ass. Veep., R & D Program Manager, Switzerland), Oliver Nussli (GPLMA, CT-Strategic Planning, Switzerland), Joulle Abega Oyoumi (Head of R & D, Abidjan) and Fred Kukubor (Cocoa Plan Manager, Ghana).