FIPDes initiates collaborations with Department of Food Science and Technology-KNUST
Mon 9 Dec 2019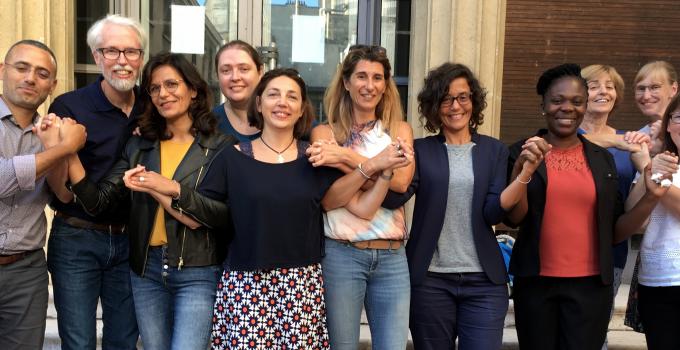 Dr. (Mrs.) Faustina Dufie Wireko-Manu was invited to the 2019 Food Innovation & Product Design (FIPDes) Week as an Academic Partner from Kwame Nkrumah University of Science and Technology (KNUST), Ghana, from the 2nd to 6th September, in Paris, France. As part of scheduled activities, she met the entire FIPDes community at an orientation program for their fresh students. She made a presentation about KNUST and the Department (Food Science and Technology) to the FIPDes consortium (AgroParisTech, TU Dublin, Lund University and Naples University), and the Director of International Relations Office, which lead to discussions on potential areas of collaborations with KNUST. She visited the different laboratories of FIPDes at Massy campus and interacted with staff on their research focus to know areas the two institutions could harness efforts in terms of joint research and students' supervision.
Dr. Wireko-Manu participated in the FIPDes International Advisory Board meeting, where she met the experienced and dedicated Board Members from the industry, research institutions, NGO, alumni and academia, to review and strategize for an improved FIPDes program. She also actively participate in a workshop on how to better address the sustainable development challenges within the global network by FIPDes. At the Advisory Board Meeting, Dr Wireko-Manu got to know that FIPDes has a keen interest in supporting the growth of food industries in Africa through collaborative activities. She also participated in the FIPDes Day 2019 dubbed: 'International Talents in Food Innovation and Product Design' where she had very interesting and promising exchanges with academia and industry on potential collaborative options and also served as a jury for the best student flash presentation. 
It was not all academics at 2019 FIPDes week, there was Bateau Mouche tour at Vedette du Pont Neuf, where she learnt the rich culture and history of France right in the Center of Paris. The week was crowned with a graduation ceremony, and interestingly one of her former students from KNUST, Delight Datsomor, was part of the graduating class.
According to Dr. Wireko-Manu, she enjoyed the networking and really felt at home as similar things are done at KNUST, she also observed the holistic approach in planning students' learning activities and skills development, state of the art facilities for research and students learning, excellent collaborations with the industry, NGO, Research Institutions among others and above all, very dedicated and passionate staff of FIPDes program.
The vision of KNUST "Advancing knowledge in Science and Technology for sustainable development in Africa", fully aligns with the aim of FIPDes, to train a new generation of food professionals capable of working across borders, with an inclusive vision of innovation to create sound, sustainable and healthy solutions for future generations on this planet. Dr Wireko-Manu hopes for a win-win engagement and appreciates FIPDes, Erasmus Mundus/ AEAE and KNUST for the opportunity given to her to participate in the 2019 FIPDes week.