FST-KNUST Trains Youth at Okuafo Pa Agri-Business Center
Mon 23 Aug 2021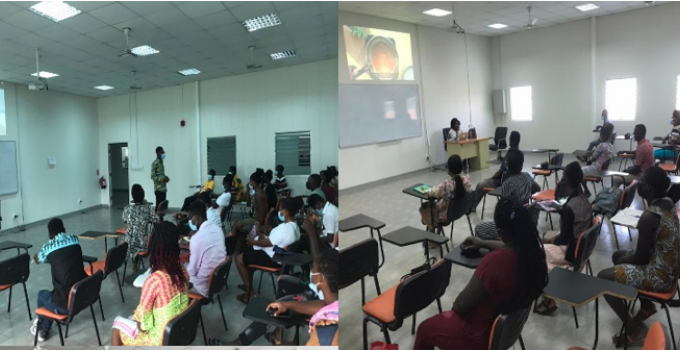 A team of experts led by the Department of Food Science and Technology at KNUST has engaged the 2nd batch of students under the Okuafo Pa Project in Postharvest and Value Addition on five commodities; cocoa, maize, cashew, tomato, and poultry. The theory teachings occurred at the Okuafo Pa Agri-Business Center in Kyeremasu, Bono region between 28th June and 9th July 2021.  
The Okuafo Pa Agribusiness Center was inaugurated in November 2019 to train the youth in Bono and its environment on production and postharvest management of the targeted commodities. Poor postharvest handling of both fresh and dry farm produce has led to several losses in the country's food basket and subsequent economic drawbacks. These have further led to the loss of income and discouragement among farmers and individuals interested in Agriculture respectively. Therefore, the postharvest and value addition component of the project aimed at equipping the region's youth with practical knowledge and skills to reduce postharvest losses in the selected commodities. Also, it aims to train the participants on some basic and easy-to-do processing techniques to help them maximize the use of their farm produce and encourage them to engage in entrepreneurship.
The trainees expressed excitement in learning the different ways of value addition and handling produce to maintain quality and quantity, they could obviously not wait for the practical session.
The team of experienced facilitators, from both academia and industry, was led by Professor (Mrs.) Faustina Dufie Wireko-Manu and included Professor Francis Appiah, Dr. Jacob K. Agbenorhevi, Dr. Patrick Kumah, Mr. Worlah Y. Akwetey, Mr. Yaw Akyereko Gyau, Mr. Vincent Abe-Inge, Mrs. Liticia Effah-Manu (all of KNUST); Dr. Francisca Aba Ansah, Dr. Paa Kwasi Bordoh, Dr. James Owusu-Kwarteng (all of UENR), Mr. Samuel Mensah Asumadu (STU), Mrs. Faustina Okyere (CSIR-CRI), Ms Frances Wendy Grant (Favour Patisserie Entrepreise) and Mrs. Dela Kuekey Austine (Delfi Ventures).