FST Students Visit REVOL FOODS
Thu 22 Apr 2021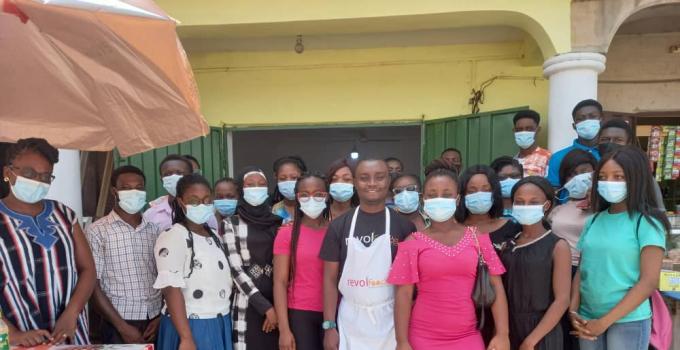 The 3rd Year class taking Postharvest Physiology and Technology course visited Revol Foods, who are into packaging and selling of fruits, vegetables, fish, meat, sausages, spices, and other groceries at Deduako near D&D School on 26th March 2021.
The visit was to augment theoretical knowledge on food produce handling in supermarkets, its potential benefits, and vice versa. Even though the quote "Let food be thy medicine and let medicine be thy food" acknowledges the importance of quality foods and healthy eating, it is a known fact that significant quantity and quality of fresh food products are lost along the postharvest value chain in Ghana due to improper handling, thereby denying consumers of the health benefits of fresh foods.
Knowing the relevance of quality fresh foods consumption, the recreative business around it, and the significant impact it could have on development, Mr.Martin,  a young entrepreneur, and owner of Revol Foods, has taken the passionate step to package and sell fresh and quality foods from across the country to its esteemed customers. The young entrepreneur sells healthier organic foods, with no chemicals, longer shelf life, and good taste to his customers. The longer shelf-life of organic farm produce is of great importance to the entrepreneur since it minimizes postharvest losses and maximizes business profit. However, as a young entrepreneur, he was facing some challenges, especially with storing his climacteric fruits. Students who visited the facility shared their expertise on postharvest handling of horticultural crops and this was great information to the entrepreneur as he learned new ways of extending the shelf lives of their various products and improving efficiency. Students also learned how most fresh produce is quickly converted to other products to extend shelf life and increase convenience. Some of the processed products were: onion paste, pepper paste, cut kontomire, thoroughly washed turkey berries, blended fruit juices, etc.