Product Development through the Eyes of KNUST Final Year Food Science Students
Thu 22 Apr 2021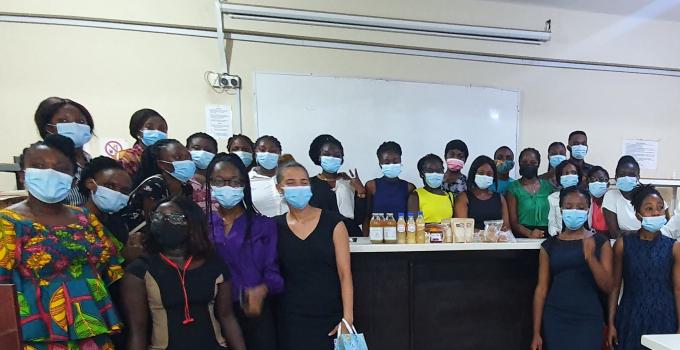 On 8th April 2021, the final year BSc and MSc students of the Department of Food Science and Technology, KNUST presented food products they developed as a result of training obtained from their food product development class.
The objectives of the project were geared towards developing food products to meet a special need, mimic a product on the market as well as generate a standard recipe for cashew apple and pineapple juice.  In the course of the presentation, they were assessed by three seasoned lecturers; Dr. Jacob K. Agbenorhevi, Dr.Eric Owusu-Mensah, and Prof. (Mrs.). Faustina D. Wireko-Manu.

The products presented by the various groups include; lemon-ginger drink which served as a Vitamin C and zinc-rich nutrients to help boost the immune system of covid 19 patients. Also, another group presented on celemix (a legume- cereal-based product) to help reduce hypertension especially among the aged.
With the same objective, the third and fifth groups presented on cashew apple and pineapple juice though not with the exact processing method or formulation. While the penultimate group presented a mimicked bottled beetom (Jollof mix) using tasty tom as reference, Group six wind-up with a mimicked wheat bread made from watermelon seeds.
The students touched on their project objectives, explained their methods, elaborated on their sensory and lab analysis results without leaving out their significant limitations and recommendations.
In an exclusive interview with one of the lecturers, he disclosed that; the course is taken yearly by final year students to enable them to have a pragmatic feel and appreciate what they are being taught. 'For the things we have to learn before we do them, we learn by doing them' he quoted.
In fact, the student's unhidden enthusiasm and phenomenal performance showed by their efforts exhibited during their presentation and their presented initiative-driven products undoubtedly confirms the adage that indeed 'the future lies in the hands of our youth'.  Food product development has registered a firm position in the food industry and these young food scientists are ready to leap to a different dimension.
By: Kwamikorkor Kafui Afra Comfort (FST 4)