Food Science and Technology Alumna wins Champions of Science – Africa Storytelling Challenge
Main page content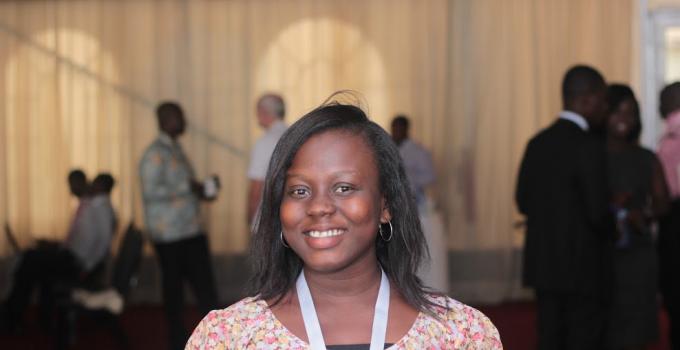 Miss Maame Ekua Manful, an alumna from the Department of Food Science and Technology, KNUST-Kumasi, has been awarded winner of the first Champions of Science - Africa Storytelling Challenge by the Johnson & Johnson Innovation. She was selected as part of the five (5) winners in Africa. The Challenge received more than 100 entries from scientists and innovators in 22 African nations, including South Africa, Nigeria, Kenya and Uganda, among others. An independent committee of scientists, science journalists and policymakers selected the winners, who will receive a $5,000 cash prize, publication of their stories, and international publicity. Miss Manful described her journey to form a start-up to create fortified foods to address the issue of vitamin A deficiency syndrome prevalent in developing countries.
"As student entrepreneur together with my graduate studies, working thoroughly to search for repeatable business models for research I involve in has been a daily learning process. After my undergraduate thesis work which focused on recipe standardization for production of yoghurt fortified with sweetpotatoes, forming a start-up brand sweetpot yoghurt, and looking to make the findings of this work available on the market has been consuming me and the team. Mentorship from my supervisor Professor (Mrs.) Ibok Oduro and the Kumasi Business Incubator (Mr. Samuel Akomea) together with resilience has really helped to make key milestones in gradually creating this impact of a food-based approach for vitamin A deficiency syndrome whiles creating market for sweetpotato farmers. Support from the Department of Food Science and Technology and Lecturers, International Potato Center, British council and Thought for Food Foundation among many others have been invaluable in this journey.  Maintaining key networks and forming fruitful relationships whiles learning from daily errors could demonstrate that we do not need a perfect story as scientists but an inspiring one to tell. One of my colleagues, Delight Datsomor (also Food Science Alumna-KNUST) shared this Africa storytelling challenge with me. Coupled with demanding coursework I managed to put in application on the deadline of submission and was fortunate to be selected as part of the 5 winners out of over 100 entries from 22 African countries", said Miss Manful.
Previously, Maame Ekua was also awarded Winner of the Rising Star Category, SME Ghana Awards, September 2017 and 3rd Place in the British Council Blazing Trails Pitch Competition 2017.
Miss Maame Ekua Manful completed her BSc. in Food Science and Technology with First Class in June 2016 and also served as a Teaching and Research Assistant for her National Service from August 2016 to August 2017 (under the supervision of Prof. (Mrs.) Ibok Oduro) in the Department of Food Science and Technology, KNUST. She then obtained a scholarship from the French Embassy in 2017 and is currently pursuing her Masters degree in Food Technology at ISA Lille-France (which partners KNUST for double-degree programmes).
Congratulations to Maame Ekua and best wishes for the future!!!
Read more at https://www.jnj.com/africa-storytelling-challenge/meet-maame-ekua-manful
https://www.sweetpotatoknowledge.org/story-sweetpotato-yogurt/