CONTRIBUTIONS TOWARD SDG 1 AND 2 THROUGH COMMUNITY YOUTH TRAINING IN POST-HARVEST MANAGEMENT AND VALUE ADDITION OF FOOD COMMODITIES
Tue 26 Oct 2021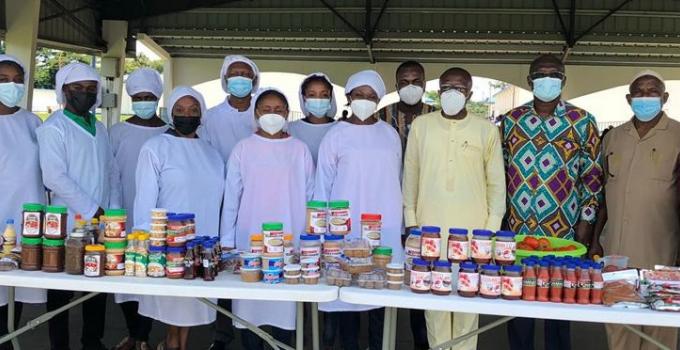 In advancing community impact programs, Okuafo Pa Agribusiness Center established at Kyeremasu (Dormaa East District) in the Bono region of Ghana by ENI and under the management of Kwame Nkrumah University of Science and Technology (KNUST) embarked on a 5-week (9th August-10th September, 2021) training program for close to eight hundred (800) youth in the region.  

The goal of the training was to equip trainees with skills to process readily available raw food commodities into safe and quality marketable value-added products using unsophisticated processing methods. This was intended to serve as a means to control food losses, increase returns on capital, enhance food security, and create jobs and sustainable income/wealth for the youth in the area, and by so doing support the achievement of SDGs 1 and 2.  The practical hands-on sessions linked theoretical knowledge and skills to develop products from cocoa (cocoa nibs, cocoa shell tea, nibs-peanut energy bar, chocolate-peanut spread, and cocoa drink), maize (weenimix/tombrown, banku mix, asaana, fresh maize milk drink), cashew (drink, jam, syrup, roasted nuts, butter, milk), tomato (jam, ketchup, paste, dried tomato powder) and chicken (burger, breaded chicken, nuggets, popcorn).


Samples of products developed were exhibited on the last day and this was graced by the visit of the Pro Vice-Chancellor of KNUST, Prof Ellis Owusu-Dabo, the Project Lead, Prof. Benard Banful, and other project management team members. The leaders encouraged students to put the skills acquired into practice and establish businesses in their own small ways, possibly in groups, and work it up to the top.  
The team of postharvest experts were from academia, research institutions and food industry, comprising of Prof. (Mrs.) Faustina Dufie Wireko-Manu (Lead Facilitator), Dr. Jacob K. Agbenorhevi,  Prof. Francis Appiah, Mr. Worlah Akwetey, Mr. Vincent Abe-Inge (all of KNUST); Dr. Paa Kwasi Bordoh, Dr. James Owusu-Kwarteng and Dr. Francisca Aba Mensah (from the University of Energy and Renewable Resources), Mrs. Liticia Effah-Manu (Ho Technical University) and Mr. Yaw Gyau Akyereko (Koforidua Technical University, Koforidua), Mrs. Faustina Okyere (CSIR-Crop Research Institute), Madam Ida Dela Kuekey (Delfi Ventures), and Ms. Frances Wendy Grant (Favour Patisserie Enterprise). The team was supported by Mrs. Veronica Adomako, Ms. Mavis Kyeme Nkansah, Mrs. Helen Nkwantabisah, Ms. Lordina Edmundson, Mr. Dickson Kwabena Agyina, and Ms. Georgina Benewaa Yeboah, as technicians.