Department of Food Science and Technology trains students at ENI Okuafo Pa Agribusiness School
Sat 24 Oct 2020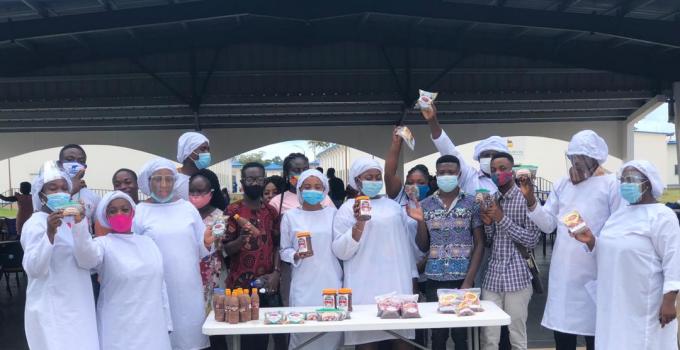 The Postharvest Team of Facilitators from the Department of Food Science and Technology (FST), KNUST trained students in Postharvest Value Addition aspect of the ENI Okuafo Pa Agribusiness Project at Kyeremasu, Dormaa East in the Bono Region from 17th to 21st February, 2020 and 13th  July to  25th  September, 2020.
The students were taken through the Postharvest management and value addition of cashew, maize, tomatoes, cocoa and poultry which were the selected commodities for the project. They were trained on how to make various semi-finished and finished products from these commodities as part of the efforts to reduce postharvest losses, improve quality, self employment, economic benefits and livelihood. The students/participants were excited and hoped to put into business what they learnt.

The Facilitators from FST include Dr. (Mrs.) Faustina Dufie Wireko-Manu (Team Leader), Dr. Jacob K. Agbenorhevi and Prof. (Mrs.) Ibok N. Oduro. They were supported by Dr. Francisca Abbah from UENR and some Teaching and Graduate Assistants namely; Mrs. Liticia Effah-Manu, Ms. Frances Wendy Grant, Mr. Gyau Yaw Akyereko, Mr. Ebeneer Quandoh, Vincent Abe-Inge and Gloria Adjei Mensah. Mrs Faustina Okyere, FST alumna/Graduate, who is currently a Research Scientist at CSIR-Crops Research Institute, Fomesua-Kumasi, was also part of the Postharvest Team. Madam Ida Dela Kuekey of Delfi Ventures Ltd was also part of the Team that handled Cocoa Value addition practicals.